Who is David Dobrik?
Part 1: The Modern Day Sitcom & Late Night Host
Content creators are some of the most underappreciated and misunderstood people in the entertainment industry. Over the past few years, I've become obsessed with the world of content creators, the future of media, etc. and I wanted to start sharing some of my thoughts. If you're interested in more deep-dives and analysis around the future of media, gaming, and technology, feel free to subscribe below!
---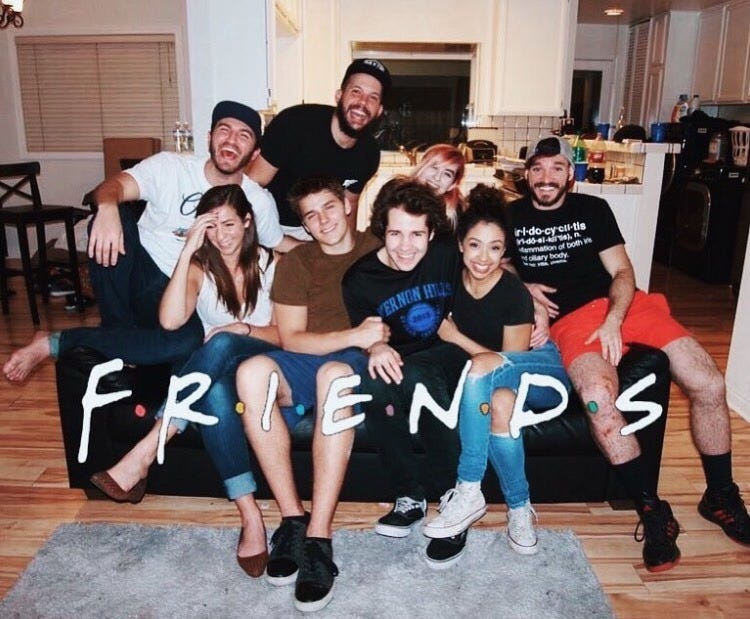 David Dobrik has quickly become one of the biggest content creators in the world. Over the past two years, his main channel has been averaging close to 415K new subscribers every single month. Today, David has over 24.5M subscribers between his two channels.
David uploaded his first video to YouTube in February of 2015. Since then, his videos have been watched over 8bn times. For context, he has uploaded 638 videos over the past 5 years.
This means that, on average, every video David has uploaded gets 10M views.
David is one of the rare content creators that has managed to transcend YouTube fame. He is now an essential figure in pop culture. For example, he recently collaborated with Justin Bieber to help market his single: Yummy.
Before I dive too deep into David's content, I think it is important to take a step back and give more context on who David Dobrik actually is.
---
The History of David Dobrik
David Dobrik is a 23-year-old content creator. David was born in Slovakia and immigrated via DACA when he was 6 years old to a Chicago suburb, Vernon Hills. David first started creating content by posting on Vine. He uploaded his first Vine when he was 16 years old and within 2 years, he grew to over 1.4M followers. He quickly mastered the art of creating 6-second comedy bits on Vine.
After graduating from high school, his parents gave him an ultimatum: go to college or move out. David opted to move out to Los Angeles with a few of his friends to pursue content creation full-time. Despite having 1.4M followers on Vine, David has publicly disclosed that he wasn't making much money from his account. Thus, David had to be scrappy. This eventually led to him creating separate meme accounts on Vine where he would charge users to get "re-vined."
Shortly after David moved to Los Angeles, most of the content creators on Vine started to shift their focus towards growing their YouTube channels. David was also hoping to convert his audience from Vine to YouTube.
In July of 2014, David and a few of his friends from Vine launched a collaborative channel, Second Class, where they planned to post skits, pranks, challenges, etc. The collaborative channel was relatively unsuccessful. However, David was still determined to make the switch to YouTube full-time. As a result, in February of 2015, David eventually posted on the Second Class YouTube channel that he was going to start his own personal YouTube channel.
Three months later, David uploaded his first official vlog. This is when everything started to change for him and his career trajectory.
---
What is a David Dobrik Vlog?
In order to fully understand why David's videos are so successful, you need to dissect what is a "David Dobrik Vlog." Vlogs and David Dobrik have are now synonymous. David often credits his ex-girlfriend and fellow content creator, Liza Koshy, for introducing him to vlogging. Vlogging is a term used to describe "video blogs," where a content creator shares their personal life with their audience. When David uploaded his first vlog, vlogging was already a fairly popular format on YouTube.
However, David pioneered a new type of vlog. David leveraged his experience and learnings from Vine to create amazing vlogs. At their core, David's vlogs are a compilation of short burst comedy bits centered around his friend group. These bits are a combination of scripted and improv skits, pranks, giveaways, etc. David's decision to focus on comedy was in stark contrast to the other major "vloggers" at the time, who chose to focus only on their real-life experiences.
David created a new type of vlog format by opting to zag where others zig.
The golden rule of YouTube is that you should do everything you can to make your videos at least 10 minutes long. If your video is longer than 10 minutes than YouTube allows creators to insert ads in the middle of their videos. Thus, better monetization for creators.
David, on the other hand, has completely ignored this golden rule. Instead, he optimizes his videos to only include his favorite clips from filming. All of David's videos are 4 minutes and 20 seconds (yes, that's a nod to 420). David is notorious for filming several hours worth of content, but scrapping it down to just the best 4 minutes and 20 seconds.
One of the most interesting aspects of David's vlogs is that he is rarely the focal point. All of David's vlogs are centered around his friend group, also known as the Vlog Squad.
David acts as the director while he films the life and adventures of his friends.
If you think about David's vlog as the main sitcom, then all of the content that "Vlog Squad" members create on their own channels is the behind the scenes footage.
Julia Alexander from The Verge perfectly articulated why David's vlogs are so successful:
Think of it like Friends, but for vloggers. Essentially, Dobrik created the first sitcom-vlog. There are musical transitions, a returning cast of characters that drive the story forward, and Dobrik's laughter acts as a laugh track for viewers. We know when to laugh because Dobrik does, and it all has to do with his friends' antics.
It's worth noting that David's vlogs weren't an "overnight success." David uploaded 167 vlogs between July of 2015 and August of 2016 before he passed 1M subscribers. However, by December of 2018, David passed 10M subscribers after posting his 520th vlog.
Despite accumulating over 8bn views and almost 25M subscribers, David continues to be the main director, cameraman, and editor for his "sitcom-vlog." It's simply unsustainable. As a result, David's upload cadence has become more irregular in the past few years. When David first started to upload vlogs, he would post three new videos per week. For the past two years, David has shifted between one or two uploads per week.
Regardless of how many videos David uploads per month, his subscriber growth rate has remained steady. David's main channel has consistently grown at a rate of 415K subscribers per month over the past two years. One of my close friends describes this behavior as: "YouTube Pricing Power."
David's consistent growth is likely attributable to the fact that his vlogs are evergreen. In the same way that you can start watching Friends or The Office at any point in the series, David's vlogs are easily accessible and addicting.
---
David Dobrik, The Late Night Host
"My big dream is to be a late-night host, but it's like, what does that even mean? And what's that going to mean in four or five years? I almost feel like if I can keep this up for a little bit longer, this is exactly what late-night of the future is, right? Like, I'll be able to have [the] guests on that I want, I'll be able to interact with them in the way I want them to be interacting with me."
David has always been very vocal about his ambitions of becoming the next Jimmy Fallon, but in a recent interview with the Wall Street Journal — David asked an important question: "What does that even mean anymore?"
According to the Hollywood Reporter:
"NBC's The Tonight Show Starring Jimmy Fallon, CBS' Late Show With Stephen Colbert and ABC's Jimmy Kimmel Live! are averaging a combined 1.05 rating among adults 18-49 and 6.76M viewers."
Yes, you read that correctly… The three biggest late-night shows have a combined average of 6.76M viewers among adults 18-49.
For context…every single vlog that David has made in the past year has over 10M views.
David has quickly become an A-list celebrity. There have been guest appearances in his vlogs from Kylie Jenner, Kendall Jenner, Justin Bieber, John Stamos, Howie Mandell, Jennifer Lopez, Charlie Puth, Courtney Cox, etc.
Additionally, in 2019, he co-hosted the Teen Choice Awards with Lucy Hale.
Whether David realizes it or not, he has already created the platform for a modern-day sitcom and late-night show.
---
David Dobrik & TikTok
As most of the world is still quarantined due to COVID-19, David has taken an extended break from making vlogs. David took his longest break between uploads this past month (from March 10th to April 24th). However, he recently uploaded a new vlog where he announced that he will still be taking a break from creating new vlogs until things are back to "normal." Given that his content is heavily centered around his friends, it has become basically impossible to film his regular content.
Although David has slowed down on creating content on YouTube, David continues to remain very active on other social media platforms. David has started to go back to his roots in creating short-form video content…by creating more videos on TikTok. Since March 10th, David has posted over 50 different TikTok videos and gained 3.5M new followers.
It's worth highlighting that David also had the most liked video on TikTok for 2019, which garnered 17.9M likes and 185M views. This TikTok has almost 3x his most viewed video on YouTube.
Over the past five years, David has conquered Vine, YouTube, and now TikTok. Regardless of where David creates content, he continues to develop a unique style and a loyal following. David's ability to create relatable, unique, and compelling content is unrivaled.
It might be hard to believe that a 23-year-old raised in a small suburb of Chicago has created a modern-day sitcom, but I think that's the beauty of the Internet. My favorite thing about YouTube and the Internet is that the viewers ultimately decide who becomes famous. For David, millions of individuals have become invested in following the lives of him and his friends.
As mentioned above, all of David's content is evergreen and incredibly entertaining so if you haven't watched his vlogs yet…I highly recommend starting with Vlog #1.
---
If you enjoyed this piece, please subscribe below for Part 2 of my deep-dive on David Dobrik. In Part 2, I will cover the Vlog Squad, Brands as Squad Members, etc.