Discover more from Blake Robbins' Newsletter
Principal at Benchmark. Hanging out on the edges of the Internet.
Over 4,000 subscribers
The New Dream Job
…and why these kids aren't crazy
…and why these kids aren't crazy
10 years ago, I distinctly remember telling my parents that I wanted to be a professional gamer. Unlike most kids in my town, I wasn't focused on becoming better at traditional sports. Instead, I was obsessed with climbing the ranks in video games. Typical of any parent at the time, mine laughed at the idea and told me to focus on going to college. I can't hold it against them though, professional gaming was not a feasible or stable job, but…it was my childhood dream.
My dream was formed out of a deep love for video games, and my envy of those few players who got paid to play video games all day.
If we fast forward to today, millions of kids are now chasing the aforementioned dream job of mine, which is now in a 'bucket' that includes: professional gamer, social media star, YouTuber, or streamer.
More specifically, they are aspiring to follow in the footsteps of the likes of: Casey Neistat, summit1G, PewDiePie, Cameron Dallas, Zach King, Huda Kattan, and Faker.
These success stories prove that what was once crazy and irresponsible to pursue — now makes for both fame and fortune.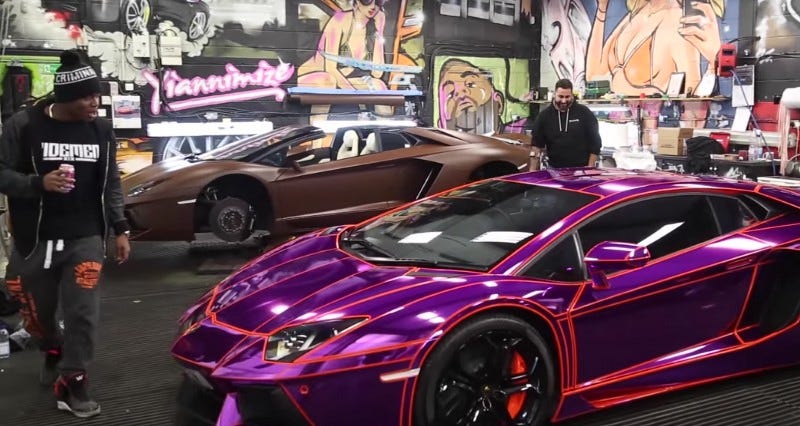 KSI, a 23 year-old YouTuber known for his gaming videos, standing with his brand new Lamborghini Aventador
Becoming a professional gamer, YouTuber, social media influencer, or streamer feels achievable.
In 2014, after surveying 1,500 respondents, Variety uncovered that the five most influential figures among Americans ages 13–18 were all YouTubers. These YouTubers ranked ahead of even the biggest traditional celebrities like Seth Rogan and Jennifer Lawrence.
A major component of this influence shift is tied to how relatable these emerging stars are. This new generation of celebrities is coming about right before our eyes, and we are watching new stars being born from first view to millionth view every day.
We are able to watch their first cringe-worthy videos on YouTube or posts on Instagram, and instead of making fun of them for it — we laugh alongside of them. We see a little bit of ourselves in their journey. By following someone throughout their road to success, it naturally feels more obtainable.
A perfect example of this is Michelle Phan, who is very well-known for her make-up and beauty tutorials. Ten years ago, Michelle recorded her first make-up tutorial. The audio and video quality are terrible, but you can tell she was a natural at creating content.
Today, Michelle Phan has amassed almost 8.8M subscribers and over 675M total views on her videos. She has earned several millions of dollars by doing what she loves.
Another great example is the extremely famous videographer, Casey Neistat. Casey has vlogged over 200 days of his life. Over the course of several-hundred videos Casey quickly became one of the biggest celebrities on YouTube. In my opinion, Casey's success can be explained by his authenticity and approachability. Casey is fundamentally genuine, and relatable. Despite never meeting Casey in real-life, I feel like I know him and his story intimately.
With every new influencer, YouTube becomes more and more robust. Recently, YouTube announced that on average a billion hours of YouTube content is watched every single day. Influence over the masses is not only confined to YouTube. Professional gamers, social media stars, and streamers have similar appeal and they have platforms that have proven to be extremely lucrative.
Getting rich is typically the motive behind a child's dream job. However, I'd argue that the main driver behind these new dream jobs is actually passion. Even though the motives might be different, it turns out that you can still make a lot of money doing what you love.
It's important to break down the economics of these 4 new dream jobs:
Social media stars
Last year, AdWeek covered the insane amount of money that influencers can make by posting sponsored content on Instagram.
One of the most influential and famous Instagram accounts is FuckJerry, with over 11M followers. In December of 2016, it was expected that FuckJerry was charging around $30,000 per sponsored post. You read that right…$30,000 for a single post on Instagram.
Another noteworthy example is style blogger Danielle Bernstein, who runs the Instagram account WeWoreWhat. According to an interview she did with Harper's Bazaar, when she had 996K followers she was charging $5–15K per sponsored post. Today, she has over 1.6M followers on Instagram.
YouTubers
Unlike social media stars, YouTubers do not solely rely on sponsored posts. Instead, they rely on ad revenue from YouTube directly. Depending on your following, your cost per thousand impressions (CPM) can change drastically.
Recently, a popular YouTuber, RiceGum made a video showing how much he makes per month off of YouTube ad revenue.
In February of 2017, RiceGum made around $68,000. To quote him, "This was actually my lowest paid month on YouTube, as I only got 20 million views. Keep in mind, over the summer I was averaging around 60–80 million views per month. I only posted four videos in February."
This means that RiceGum was earning around $3.40 per 1000 views (CPM). It's worth noting that RiceGum is only 20 years old. In addition to having over 5 million subscribers on YouTube, RiceGum has a massive following on both Instagram (2.7M) and Twitter (1.3M).
Using this conservative model of $3.40 per 1000 views, we can estimate that 17-year-old YouTube star Tanner Fox (4.2M subscribers) earned over $150,000 in February alone from his 47M views.
Another success story is FaZe Clan: a group of teenagers that garnered initial attention from their Call of Duty trick-shot videos. Shortly after their videos started going viral, they decided to all move into a house together and record their daily lives. Recently, the six main YouTubers from FaZe Clan moved into a mansion worth over $10M in Beverly Hills, CA.
Watch their house tour: https://www.youtube.com/watch?v=u-_z-9t8Nhw
Professional Gamers
Over the past year, we have seen very well-established traditional sport teams (and owners) start to invest in esports organizations. For example, the Boston Bruins, Philadelphia 76ers, Miami Heat, etc. have all invested in esports teams.
The revenue streams for both teams and players vary greatly depending on the game. However, the most common revenue streams for professional gamers are: salary from teams, tournament earnings, sponsorships, YouTube, and streaming.
According to an anonymous survey conducted by ESPN of 33 League of Legends pro players, the average base salary of a North American League of Legends pro player was $105,385. League of Legends is by far the most popular game played competitively.
For other games, such as Dota 2, the prize pools are well into the millions. In 2015, Sumail "Suma1L" Hassan Syed, a 16-year-old from Pakistan earned $1.2M when his team won Dota 2's biggest tournament: The International. For context, in 2015, the total prize pool for The International was over $18M.
As mentioned above, it is not uncommon for these professional gamers to stream on Twitch and make videos on YouTube when they are not playing competitively. As a result, there have been several professional gamers that decided to leave the competitive scene to become full-time streamers or YouTubers. The two most notable professional gamers that have turned towards pursuing careers on YouTube and Twitch full-time are Nadeshot and imaqtpie.
Streamers
Most streamers earn a bulk of their earnings from donations, subscribers, ads, and sponsorships. Donations are an extremely unique component of streaming, and if you've ever watched a Twitch stream, you've likely seen someone donate to a streamer.
You are probably asking yourselves why viewers would donate to these "celebrities." The biggest reason for donations is to get noticed by the streamer. In most cases, streamers will read off any donations they receive over a certain threshold. Imagine being able to pay LeBron James $5 to read off your 140-character message.
As mentioned above, subscriptions are also a large component of earnings for streamers on Twitch. Viewers have the option to support streamers by subscribing to their stream for $5/month.
Each streamer determines their own perks for subscribers. For example, most streamers allow subscribers to have custom emotes in chat. Additionally, most streamers give subscribers shoutouts at the time of subscribing.
Whether you dream of becoming a professional gamer, social media star, YouTuber, or streamer, you are chasing these paths because it's your passion. And I think everyone can agree that making your passion your job is the dream.
In short, these influencers are just like you and I. They showcase the intimate details of their lives, and interact with their fans unlike any other celebrities have before them. They stumbled into these lifestyles by pursuing what they love. In return, they were greeted with both fame and wealth.
We are entering a new era where, given the right circumstances, anyone can become an influencer. As a result, these new stars are starting to become far more marketable than traditional athletes or Hollywood celebrities.
If (and when) your kid wants to chase his/her passion, whether it is playing video games or making beauty tutorials, I encourage you to support them.
As always, if you are ever interested in chatting more about VC, startups, OR if you want me to write about a specific topic - I'd love to hear from you.
Twitter: 

@blakeir
❤ Please hit recommend if you enjoyed this post! ❤
Huge thanks to Jordan Messina, Jackson Dahl, Ed Chang, Brandon Epstein and everyone else who helped with feedback!