#2017Homescreen
On January 1st, 2016 I shared a photo of the homescreen that I was entering 2016 with. Over the past year, a lot has changed in tech…
On January 1st, 2016 I shared a photo of the homescreen that I was entering 2016 with. Over the past year, a lot has changed in tech. However, more importantly my tastes and usage have changed. As we enter 2017, I wanted to reflect on the applications that have been dropped or added to my homescreen over the past year.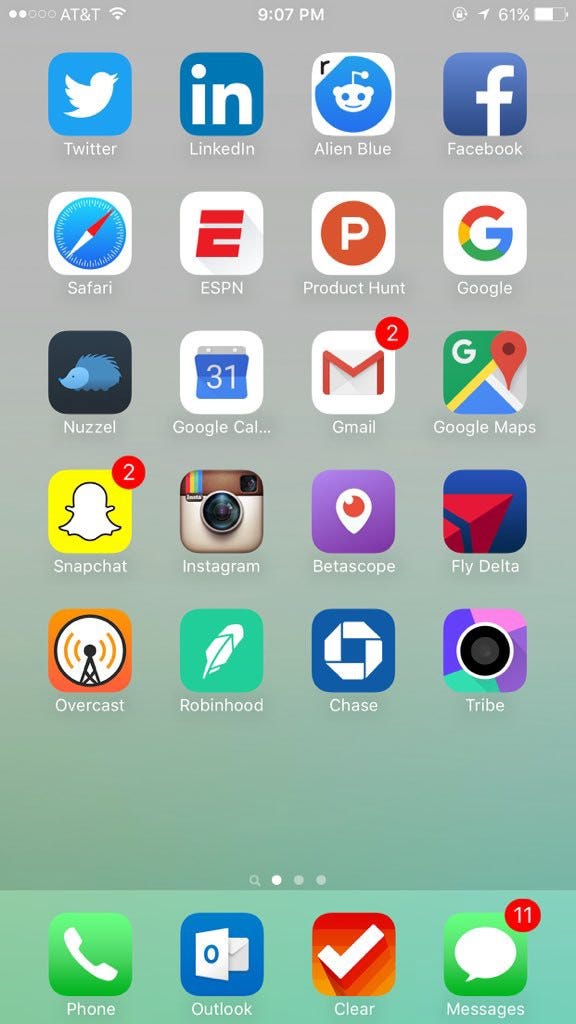 I started 2016 with 24 apps on my homescreen; however, I ended it with only 17. Of these 24, only 10 survived entire year on my homescreen. I removed the following apps from my homescreen over the course of 2016:
LinkedIn

Alien Blue

Facebook

ESPN

Product Hunt

Google

Nuzzel

Google Calendar

Gmail

Google Maps

Instagram

Periscope

Delta

Tribe

Clear
There are dozens of reasons for why I dropped these apps from my homescreen, but the biggest reason is lack of usage.
Note: I used to have two e-mail apps to separate work/personal accounts, but decided to go all-in on Outlook. I also now use Outlook's built-in calendar tab.
Homescreen: 1/1/2017
As of present day, these are the 17 apps I use most often on my phone.
New Additions:
Discord — Became my main way to communicate with gaming friends

Reddit — Replaced Alien Blue

Pocket

Uber

Spotify — Finally became a premium user

Waze — Replaced Google Maps

Letterspace — My go-to Notes + To-do list app

Calm

Clash Royale
I feel fairly confident that I will use this homescreen for the rest of 2017; however, if I make any changes to my homescreen throughout 2017— I will update this post!
My good friends at Product Hunt have started the #2017Homescreen hashtag on Twitter! Tweet me your homescreen, I'd love to see yours!
As always, if you are ever interested in chatting more about VC, startups, OR if you want me to write about a specific topic - I'd love to hear from you.
Twitter: @blakeir